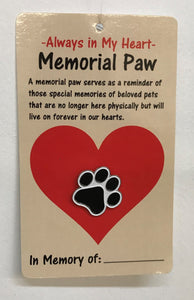 Memorial Paw Pin, Always in My Heart
Everyone who has lost a special best friend will appreciate the gift of a memorial paw to remember those special memories of beloved pets that are no longer with us here physically but will live on forever in our hearts.
It's a lapel pin but you can pin it just about anywhere...on your hat or purse or wherever you like.
It is metal and measures 1" wide by 1" tall.  High quality enamel finish.