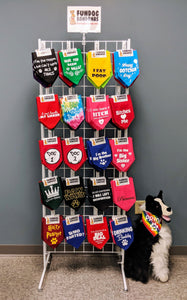 Wholesale 20 Designs FunDog Starter Pack - OSFM
Starter Pack includes 10 each, One Size Fits Most of 20 of our most popular designs.  OR you can choose which you like best and build your own. 200 Bandanas total! 
Rack Sold Separately
Designs we recommend are:
Wiggle Butt
I'm the reason we can't have nice things
In My Defense...I was left unsupervised.
Have you seen my Balls?
The Squirrelinator
Bitches Love Me
I was born a Bitch; what's your excuse?
Hairy Pawter
I'm the Big Sister
I'm the Big Brother
I can't handle my LICKER
Momma's Boy
Mama's Girl
SECURITY
You look like I could use a TREAT
Snuggle Buddy
I'm barking and I can't shut up!
 Rescued and Lovin' It
Who Farted?
Do not Pet Me.  I need Space.